Mapraider Needs Your Help
Through your support we are able to maintain and regularly update Mapraider with new content and features for your enjoyment. Your gratitude is greatly appreciated and ensures that Mapraider remains one of the best free map resources on the net.
Running Mapraider isn't free. Along with the people-time required to maintain the site, its content and the hardware and software that keeps things running, there are various other costs like hosting, bandwidth, and domain and SSL certificate renewals.
Donations
Donations are the best way to help defray our operating costs, and members donating benefit by having advertising on the site removed from their account for a year and full access to our direct download server.
You may make a donation of any amount using one of the following methods: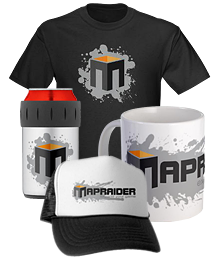 Merchandise Purchases
Mapraider receives a $3.00 commission on purchases made in our Cafepress store.
Advertising
To purchase advertising space on the site, please contact us for more information.
Participate
Participating in our community here at Mapraider is a great way to contribute. Here are some ways to show your support:
Encourage your favorite map authors to join and submit their maps
Submit your own maps or others that you like
Rate, write reviews & comment on maps that you've played
Link to Mapraider from your web site. Download the Mapraider fan kit with logos and graphics.
Encourage your friends to sign up and participate
Setup a Gnutella P2P client sharing all of the Mapraider maps you've downloaded